Update: 07 October 2015
Balancing Essential Nutrient Minerals
Health begins at the cellular level. Healthy cellular function relies on having the proper levels and ratios of essential minerals. hTMA provides the information needed to assess and improve cellular function.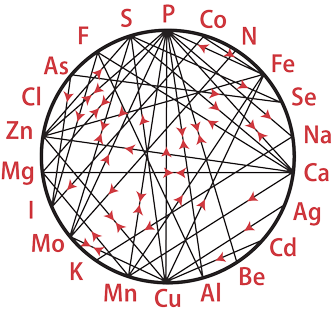 Nutrient Interrelationships

Essential nutrient minerals are required for proper growth, development and physiological functions. Your body cannot synthesize these minerals, so they must be obtained from your diet.
A Tissue Mineral Analysis (hTMA) is a noninvasive medical test that provides comprehensive information about nutrient mineral levels and ratios, metabolic status and toxicity. The hTMA lab report can be used to correct the levels and ratios of essential minerals, thus improving cellular function (e.g., the transmembrane potential†). When individual cells are working properly, health improves.
Benefits of Hair Analysis (hTMA)
Most medical tests focus on identifying the cause of a very specific clinical symptom. Typically, the test result will be used to determine a pharmaceutical therapy or surgical intervention. hTMA is different. It is a multipurpose medical screen that provides clinically relevant information regarding overall health status. Using the information provided in the hTMA, the clinician can make recommendations to support system-wide health improvements. A corrective nutritional approach is provided to improve general health, encourage safe detoxification, and effectively resolve many confusing or complex symptomatic health problems.
How to get started
This website is a free, non-commercial resource for information about the science of hTMA and related topics. If you are interested in hTMA, we recommend that you work with a qualified practitioner.
Find a Qualified hTMA Practitioner
† Definition: The transmembrane potential of the mitochondria drives the production of adenosine triphosphate (ATP). ATP transports chemical energy within cells for metabolism (biological energy). Cells draw on energy they store in the resting potential to drive action potentials. These changes in the membrane potential enable communication with other cells (as with action potentials) or initiate changes inside the cell, which happens in an egg when it is fertilized by a sperm. In neuronal cells, an action potential begins with a rush of sodium ions into the cell through sodium channels, resulting in depolarization, while recovery involves an outward rush of potassium through potassium channels. Both these fluxes occur by passive diffusion.